Madeira Bowling Club
Madeira Bowling Club
Established in 1926
News Report
Winners in rain delayed Club finals
Author: Jenny Smith, 12/09/17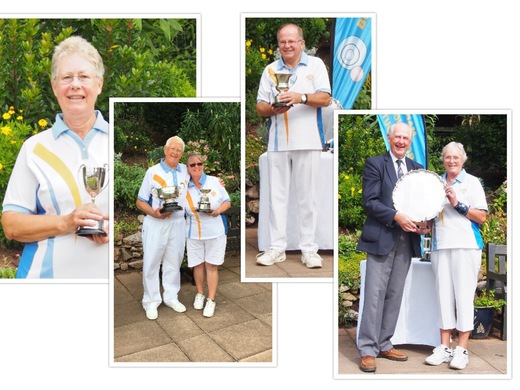 It has again been a busy week at Madeira. The club has hosted three events for Bowls Devon. Colin Healy, President of Bowls Devon and his team played, and won, a fixture against Monmouthshire Bowling Association on Monday, at which President Colin was pleased to be able to present County Badges to two more Madeira Colins, Hughes and Shaw, both of whom played on winning rinks. Mark Stephens and Ian Thomson also gained their County badges this week, presented by the President at Budleigh Salterton BC.
The Grace Matthews Top Club finals were held at Madeira on Wednesday with Torquay Kings playing Plymstock in the final, winning the competition by 3½ to 1½ pts. The final county event was the Men's finals held over the weekend. Madeira had three teams playing. In the Pairs, Aaron Southgate playing with sub Mike Gorman were runners-up, as were John Bellamy and his team in the unbadged triples final. However Madeira members are pleased and proud that Keiran Daniels did well to beat Connor Thompson by 21 shots to 15 to become the Under 25s singles Champion.
Ian Thomson playing with Keiran Daniels and Jean Rainton did well to reach the quarter final of the Burma Star Triples. However they have now been knocked out by the strong Crediton team of Mary Abbot, Chris Bond and Robert Paxton by 22 shots to 15 having kept the game tight until the last few ends. Well done to them.
Following washout Sunday, Madeira Club finals continued through the week. Angela Fish rounded off her success in the singles Championship with another win against Jean Rainton in the Handicap. Jacky Howle, the runner-up in the singles, was pleased to win the two-wood singles against Christine Macaulay by 14 shots to 9 but Christine also had her success in the two wood singles against Angela Denner. The only men's final outstanding was for the Hunter Cup when David Tucker beat Chris Reed by 21 shots to 13. The closest final was the mixed pairs between Geoff Furminger and Janet Grundy against Mary Solway and David Mears, which Mary, in her first year of outdoor bowling, and David did well to win by one shot.
On top of all this there were three friendly fixtures. Denmead brought 10 mixed rinks to Madeira when the home team put in strong performances on all rinks to win overall by an unusually high 286 shots to 95. Vice Captain David Moody and his team of Janet Allen, Denis Huntley and Matt Marriott achieved the highest shot difference for the home team of plus 31.
Madeira also did well against Keynsham who brought 6 men's rinks to Exmouth. Captain Vic Doidge playing with Derek Dommett, Mike Crelley and skip Ian Thomson achieved the best shot difference of plus 27 to lead the home team to another comfortable victory of 156 shots to 72, again winning on all rinks.
However it was a different story when the Cotswolds Bowls Club brought 6 mixed rinks to Madeira for a game which the visitors won by 118 shots to 88. Madeira won on two rinks, with the best shot difference of plus 10 achieved by John Relph and his team of Dee Williams, Peter Woods and Jean Healey.
The end of term report on the Exeter Over 60s League is that Madeira had a very mixed season with no silverware this year. The A team were third in their division having won it last year. The B team went up to Division 2 last year but are back down to 3 this year. The C team have been promoted from Division 6 to 5, the D team stay where they are and the E team go up from Division 4 to 3.
To round off the week's news, we took 7 rinks to Cheltenham Spa BC for the return segment of their Annual "Home" & "Away" fixture in the outdoor calendar. With them went a 9 shot advantage, gained by Madeira when the Gloucestershire Club came to Exmouth for the day in August.
Unlike at Madeira, where 12 rinks were played, Cheltenham Spa can only accommodate 7 and so the entire rubber is accordingly played over the combined 19 rinks. With 21 ends for both games and 8 players on each rink (4 per side) this resulted in the amazing total of 6,384 woods being bowled over the two matches – 3,192 by either side.
At tea time in Cheltenham Madeira had added a further 2 shots to their combined total. At the end of this away leg the two Captains could not believe what they were seeing, so checked and double checked the score cards. There was however no doubting the score nor the result. With a score of 123 to Madeira and 132 to Cheltenham Spa the Home team had clawed back the shot disadvantage and secured a draw over the two games. What were the chances of that considering the total number of bowls delivered?
Top rink on the day for Madeira was that skipped by President John Bellamy with Angela Denner, Dave Clarbull and Ann Bellamy (first half) and Freda Relph (second half) who had a tremendous win of 33 shots to 10.
As Madeira were the holders of the trophy it returned to Exmouth for another 12 months.
Follow the site to get the latest news and results straight to your email