Madeira Bowling Club

Madeira Bowling Club
Established in 1926
News Report
Madeira Ladies enjoy success at Torbay
20/11/17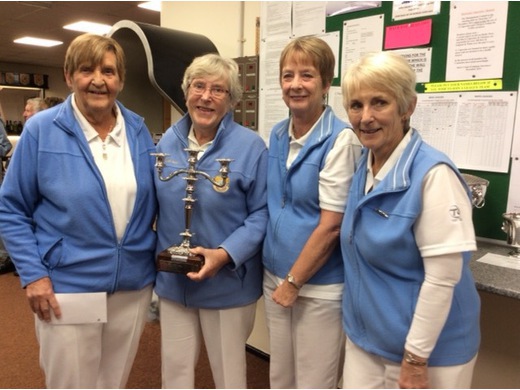 It has been a very busy week at Madeira, with lots of bowling being played.
In the men's Inter-Club Madeira lost 62 - 89 to a strong Plymouth team but picked up two points for winning one of the home rinks where Mike Marks; David Macaulay; George Perrin and Mike Gorman won by 19-17. Given the date was 11th November, at exactly 11.00 a.m. all play was stopped and the players respectfully stood for two minute's silence. At the conclusion of this and after a number of ends had already been played, it was noted that the score board showing the aggregate score for both rinks at the time displayed 11 - 11. An amazing coincidence indeed.
Last Sunday three teams travelled to Torbay Bowling Club for their Club Open Ladies Triples Tournament. They played three 11/2 hour games. The team of Janet Grundy, Penny Preece, Jean Rainton and Jenny Smith won the tournament. They won all 3 games which gave them 6 points and a plus 26 shot difference making them the clear very happy winners.
There have been four friendly matches this week. Four teams set off for Bridport and did well to win. With three teams winning and one team drawing they had an overall difference of 67—51. Dawlish came to visit bringing 3 mixed teams. Madeira had an excellent win of a score of 62--46 helped by the team of Jean Bagnal, Mike Crelley, Dave Mansell and Carol Worth, they had the highest winning rink 23—13 against a very competitive club.
The men played host to Winscome, again Madeira having a good win. Richard Prince, Dave Hitt, Gordon Medlock and George Perrin had a convincing win of 23---6 as the highest winning rink.
The ladies vice-captain met the men's vice captain for the second time, this week the men won on all 3 rinks, the team of Colin Hughes, John Hopkins, Dave Hitt and Chris Reed had a good win of 25-12 which included a HOT SHOT!!. We look forward to another meeting in the New Year.
The ladies have been busy in the National and County games. Madeira having some good wins.
In the National pairs Jenny Charles and Sandie Cox had an exciting game against Shirley Hiscocks from Honiton. The Madeira pair winning with a good score of 16—10.
In another exciting game , Jill Perrin and Deirdre Norman played Joy Penberthy and Chris Macaulay the game was close throughout the match with Joy and Chris winning with the last wood by 1 shot.
In the County Triples , Jan Roberts, Dee Williams and Catherine King played at Sidmouth to win by 23—7. We wish them all success in their next matches.
The Madeira Men also had an excellent result in the over 60s County Trophy league against Mid Devon. This is played as two rinks home and two away. The Madeira team won overall by the closest of margins by one shot, giving them 12 points. A superb result.
The week ended with the news that Jan Roberts, Catherine King and Deirdre Norman are selected to play for the County in the Southwest Counties league match against Cornwall, at Newquay congratulations to them!!
Follow the site to get the latest news and results straight to your email