Madeira Bowling Club

Madeira Bowling Club
Established in 1926
News Report
Madeira ladies battle it out in the County Pairs
Author: Jude Latta, 05/11/16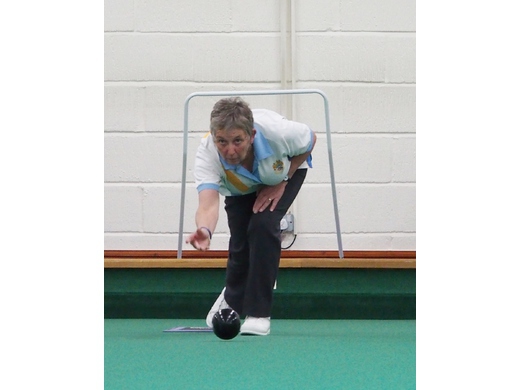 With a dozen Madeira ladies involved in the County Pairs Tournament it is hardly surprising that on occasion we will have one pair playing another in the competition. What was surprising was that the same four Madeira Ladies would be playing against each other this year as last year. Sue Harriott and Nicky Fiddimore were playing Catherine King and Jan Roberts. Last year, Sue and Nicky had the game won by the fourteenth end, would it be similar this year?
As ever, these two pairs were well matched and at the fourth end it was 4 – 4. But Sue and Nicky won a 4 shot next end followed by 3 shots on the seventh end to lead 12 – 4. But it was still early days and Jan and Catherine were not rattled. Both teams were playing very well, with the team holding shot changing several times during the course of each head. But Jan and Catherine were only winning by 1 or 2 shots on their winning ends and couldn't catch up. Sue and Nicky kept up the pressure. They won a terrific 4 shot on the fifteenth end, shortly followed by a 3 shot to win the game on the nineteenth end 26 – 11. A thoroughly absorbing match. Well done Sue and Nicky.
Madeira ladies were also in action in the Foxlands County competition and were playing Kingsley. Away, Madeira won one rink and lost one and despite the best efforts of Catherine King, Brenda Marks, Lin Halpin and Jan Roberts who won 21 – 13 we were behind by 3 shots at 37 – 40. At home, we also won one and lost one, but Sue Harriott, Deirdre Norman, Penny Preece and Dee Williams won by 26 – 12 to give Madeira the overall win with 81 – 76.
Our first friendly of the week was against Torbay at home and you don't get a much closer result than this. Torbay won two of the three rinks but Alan Porter, Ann Doidge, David Charles and Margaret Mahon had a magnificent game and won their rink 32 – 12 to give Madeira the victory by just one point, 60 – 59.
The ladies travelled to ISCA for a triples game. Although we won two of the three rinks, ISCA beat us 38 – 48. Meanwhile, at home it was the Men's Captain versus the Men's Vice Captain. This was also close game but the Vice Captain's teams won two of the three rinks and won overall 49 – 47. Our final friendly was against Mid Devon. The game was evenly matched throughout and at the twentieth end there were only 2 shots in it at 51 – 49, but with a 4 shot from one Madeira team and a 3 shot from another, Madeira won 58 – 50.
Follow the site to get the latest news and results straight to your email