Madeira Bowling Club
Madeira Bowling Club
Established in 1926
News Report
Devon win both the Amy Rose Bowl and White Rose Trophy
Author: Jenny Smith, 04/09/17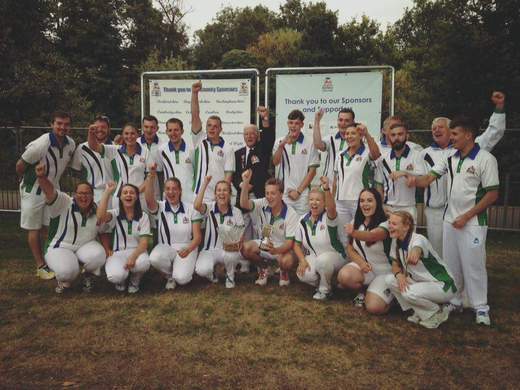 It's been another busy week at Madeira culminating in the Club's finals weekend with weather to contend with that was chalk and cheese over the two days. Saturday's bowling conditions were perfect but Sunday was a washout, all games being cancelled and held over until Monday morning and later in the week and which will be reported next week. It proved to be a timetabling nightmare for Competitions Secretaries Chris Reed and Jude Latta.
The highlights of the Finals are always the Singles Championships. Aaron Southgate won his final against Richard Prince by 21 shots to 12 both of them bowling well for an exciting game although Aaron managed to keep ahead and ultimately widen the gap. It was a similar scoreline for the Ladies with Angela Fish winning her final against Jacky Howle by 21 shots to 13. Jacky had a slow start but the game developed into a worthy final. Richard Prince played a second singles final for the Axon Cup later in the afternoon against Cliff Skinner, this time winning the handicap competition by a comfortable 23 shots to 8. Jim Wherlock met Mark Perrott in the final of the Men's two wood final. It was a long and hard fought game – 9 all at 15 ends, 17 all at 26 ends, but in the end Jim won by 21 shots to 18. The last singles of the day was the Ashby Crane Open Singles which Liz Smerdon won by 21 shots to Mike Gorman's 10, Liz having kept in front throughout the game.
Lead Rob Walker playing with Vice Captain Dave Moody had an impressive win against Ian Thomson and David Hitt in the Men's Pairs. It was a similar story in the Ladies Pairs when Skip Lin Halpin playing with Margaret Humphrey won their final against Jean Rainton and Mary Solway. The Men's triples final was a much tighter game with skip John Relph playing with Mike Boman and Colin Shaw beating Ken Roberts and his team of Chris Smith and David Moody by the closest margin, 21 shots to 20, the winners picking up a well-timed 5 on the 17th end.
The young ones have again been busy at the National Finals at Leamington Spa. Josh Hadfield and Aaron Southgate did well in the National Pairs. They beat Pairs from Northants, Dorset and Surrey only to be knocked out in the Quarter Finals by Lincolnshire, the eventual winners.
Devon also did well to win both the White Rose Under 25 and Amy Rose Under 31 National inter County double rinks competitions. Madeira's Carrie Southgate played all rounds and Courtney Seers played in the semi-final and final of the Amy Rose when Devon beat Somerset, last year's winners, by 40 shots to 30. Keiran Daniels played in the White Rose with Devon winning the semi-final against Lincolnshire by 43 shots to 39 and the final against Berkshire by 41 shots to 37. This was Devon's 7th success in the competition since it started in 1953.
Madeira men were disappointed to lose the semi final of the County Top Club against Bideford at Upton Park, Torquay played in appalling weather conditions and bowling through surface water. However, President John Bellamy playing with Rob Prescott and Vic Doidge are delighted to have made it to the finals of the County Unbadged Triples this coming weekend, beating Chudleigh by a convincing 23 shots to 6. Madeira ladies had their own disappointment losing the quarter final of the Grace Mathews Top Club against Plymstock at Abbrook Park on Wednesday by 2 disciplines to 3. However Angela Fish did well to win the 4 wood singles by 21 shots to 17 as did Nicky Fiddimore and Sue Harriott who won the Pairs by 29 shots to 12.
There have again been several friendly fixtures this week. The Ladies Captain played the Men's Captain on Bank Holiday Monday, a fixture which is always much enjoyed although it is very difficult to the ladies to make much impact on the men. This year was no exception with the men's captains' team winning by 209 shots to 142. The ladies best performance was by Brenda Marks and her team of Mary Solway, Val Allam and Angela Denner who lost by just one shot. John Relph playing with Derek Dommett, Roger Davis and Geoff Furminger had the most decisive win for the men of 31 shots to 13.
There were two friendly fixtures on Tuesday. Four mixed triples played at home against Feniton to win by 63 shots to 54, each club claiming two triples each. David Macaulay playing with Sue Burr and Graham Ellis won their game by an impressive 22 shots to 6 to ensure victory for the home team. Four ladies triples teams travelled to Sidmouth for a game they narrowly lost by 68 shots to 73. Captain Mary Ann Dowrick's team had the only winning triples; playing with Jude Latta and Maureen Willis they did well to win by 22 shots to 8.
Touring team Central Essex brought six mixed triples teams to Madeira, a match which the home team won by 97 shots to 84, winning three triples, drawing one and losing one. All games were close in score with the best shot difference for the home team being Vice Captain Dave Moody playing with Tony Howle and Lin Hambly who won by plus 8 shots.
Plymouth Sir Francis Drake made Madeira the last port of call before heading for home at the end of their tour to Bournemouth. They finished on a high with a good win of 202 to Madeira's 173. However Jenny Smith playing with Colin Hughes, Glynis Byrn and Mike Boman did well for the home team with a 20 shots to 9 win.
Follow the site to get the latest news and results straight to your email