Madeira Bowling Club

Madeira Bowling Club
Established in 1926
News Report
Christmas Triples a great success
Author: Jean Healey, 23/12/18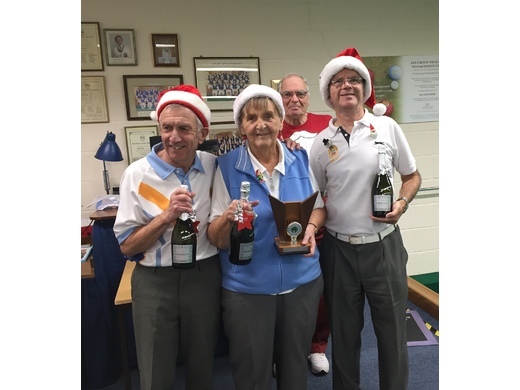 Andy Lock, Mike Gorman, Terry Reardon and Cliff Skinner beat a team from Sidmouth in the National Men's Over 60s Fours. This was a close game, with Madeira only ahead 11-10 on the 12th end but they pulled away to win 17 - 11, and Sidmouth conceded half-way through the last end as they did not have enough bowls left on the rink to gain the shots needed to win.
There were 2 friendly matches played the week before Christmas, the first against Chudleigh when Madeira won handsomely on all three rinks. Geoff Furminger with Glynis Byrn, Freda Relph, led all the way finishing at 26-8, and the overall score was 68 – 26 to Madeira. Another afternoon in good company.

In the match against Ottery George Perrin's team were 10 all on 14 ends but then dropped a 4, Val Allam's team had a tight game, drawing at 18 all on the penultimate end but then losing by 2. However Chris Price with Angela Denner and Lyn Hambly were ahead all the way to win easily, with a final total match score of 57-45 for Madeira.
58 members of Madeira took part over two days in a triples competition which saw 18 teams competing for the Christmas Triples trophy. There was a festive air on the rinks with many members sporting Xmas attire but there was keen competition throughout the two days and on Wednesday the winners and runners up from both days fought it out for a place in the final.
The final could not have been better scripted. Bob Walker and his team of Keith Prew and Ian Sowden got off to a good start and with just the final sixth end to play they were leading their opponents Jean Rainton, Peter Hyett, and Alan Halpin by 6 shots to 3. They say the game isn't over until the last wood stops and this proved to be true as some magnificent deliveries from Jean's team resulted in them being the eventual winners by 7 shots to 6, with everybody holding their breath as the final wood came to rest. What a great way to finish off two very enjoyable days' bowling!
Happy New Year 2019 – why not come and join us to make new friends, new interests, with gentle exercise included.
Follow the site to get the latest news and results straight to your email